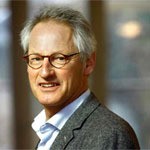 Starting with this edition of the newsletter, a member of the Commission will introduce himself or herself to you, the reader. You can convince yourself that this Commission, with its excessively lengthy name, is populated by real people. It will give you an insight into the themes and considerations in the work of the Commission. I am to set the ball rolling.
My name is Paul Rullmann (1948). I am on the Commission on behalf of VSNU, the Association of Universities in the Netherlands. I am a sociologist and have been working in higher education for practically all my life. First many years in higher professional education, as a teacher, as a policy adviser and later as a board member. At first at SOSA (a course for ambulance staff), then at the Council for Higher Professional Education, the Hogeschool Haarlem and Inholland University of Applied Sciences. And after that in university education: from 2002 to mid-2013 as a member of the Executive Board of Delft University of Technology.
Higher education is a dynamic social field in which I have been working for many years with great pleasure. In the last years I held several administrative positions, such as chairman of SURF, chairman of the committee Efficiency Higher Education, member of the board of QANU and now I am a member of the National Commission Code of Conduct Higher Education.
The NC Code of Conduct is an important committee. It is the fruit of self-direction. Growing internationalization of higher education made universities of applied sciences and universities, both public and private, realize that the collective image of the Netherlands as an attractive country for studying is influenced by each actor. That may be positive (as a flagship for the entire fleet) or negative (one rotten apple…). That is why the institutes joined hands to formulate a code of conduct to tell what they think is the best approach of international students. The code has a wide scope: it deals with recruitment, the provision of information, service, complaint procedures, quality of study programmes et cetera. The code helps to express what the institutes jointly considered to be important and helps to take corrective measures in case of violation of the rules of conduct. The National Commission sees to the latter. It handles complaints made by students, staff members and institutions. The Commission is the guardian of the Code. The less the Commission should act, the better. Luckily, such is the practice.